The Summer Internship Housing program for non-UConn students/interns is still suspended until further notice. Please continue to check our website for any further updates.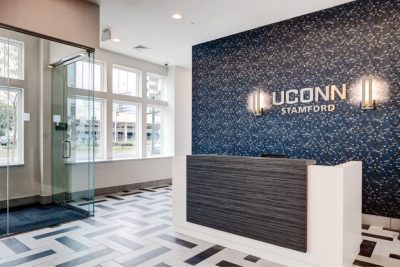 Residence Hall
UConn Stamford housing is located at 900 Washington Boulevard, 2 blocks south of the UConn Stamford campus and half way between the main campus building and the Stamford Transportation Center.
When using GPS, please use:

900 Washington Boulevard, Stamford, CT 06901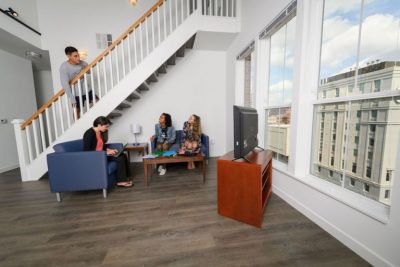 Types of Rooms
Shared Double bedrooms: Two people share one bedroom, in a shared apartment.
Single bedrooms: One person occupies one bedroom, in a shared apartment.
(limited availability)
Please note the following:
1. All residence halls are coed; bedrooms and suites are single sex.
2. All UConn residence halls are smoke-free including the use of electronic devices.
3. UConn restricts the opening of balconies and windows in all residence halls.

Apartment Amenities
Each apartment is fully furnished with bedroom, living room and kitchen furniture.
All beds at 900 Washington Blvd. are Twin XL.
The kitchen of each apartment has a stove, microwave, dishwasher, refrigerator and a washer and dryer.
Heat, Hot water, AC, wireless internet and cable TV access are all provided in cost.
Recreation: Study space on each floor as well as space including a game room and larger recreation room on the second floor.
What we provide
Bed and Mattress
Dresser/Bureau
Closet or Wardrobe
Desk/Writing Surface & Chair
Cable TV – HuskyVision (you bring the TV and cable cord)
Wireless Internet Connectivity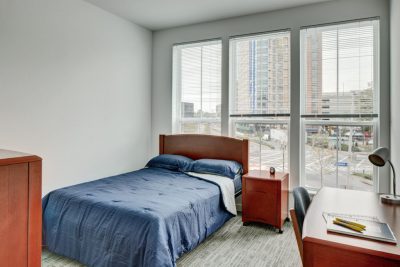 Items to bring
Two sets of linens
Television, and/or DVD Player
Towels & Washcloths
Laptop/Computer
Laundry Detergent
Bathroom Cleaning Supplies/trash can
Hand soap
Toilet Paper
Dishwasher Detergent
Dishes & Cookware
Silverware
Shower Curtain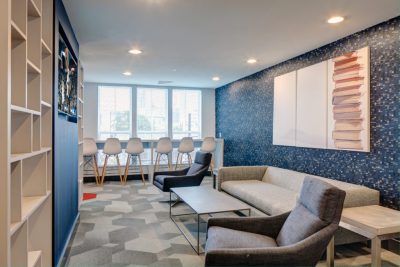 Items Not Permitted
Electric grills
Extension cords
Firearms, ammunition, and weapons of any kind.
Bows, guns, BB guns, slingshots, and launching devices
Fireworks, powder, and other explosive dangerous objects
Drugs, narcotics, harmful materials
Halogen lamps (of ANY kind - desk, floor, table, etc.)
Candles or incense
(Please see The Student Code for more details)
Getting Around
Less than a 10 minute walk to local shops and transportation.
Stamford Metro-North Station: 9 min (0.4 mile)
Landmark Square Shopping Center: 9 min (0.4 mile)
Target: 6 min (0.3 mile)
YMCA of Stamford:  2 min (390 ft)
Ferguson Public Library: 8 min (0.4 mile)

Contact us
Send Us a Message
We will do our best to answer or direct your inquiry to the right place!
We also encourage you to review our website and to use the search function to see if there are resources available to help you find general answers online!